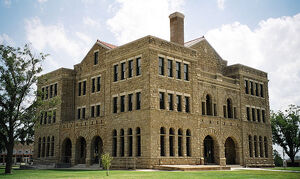 Texas is a US state
TexASS is the worst state ever in Ferris Wheel Road Trip.
In Starbird (Texans Against Karkan Invasion)
Edit
Texas is seen from space. in 2051, A group called TAKI or Texans Against Karkan Invasion, were formed in Midland Texas to "combat the threat of those lying alien bastards". The leader, Jed Thare was quoted as saying "Karkans are demons here to infest God's good earth. This is a country of Jesus, not Pointy eared freaks!" The group protested in Atlanta, Georgia, and refused to let the Karkans evacuate them when the invasion came, stating that God will be the decider. The entire group was annihilated.
Texas Was a nation for a brief time in the 2040s-50s and a memeber of The Confederate States of Free America in the 40s. 
Ad blocker interference detected!
Wikia is a free-to-use site that makes money from advertising. We have a modified experience for viewers using ad blockers

Wikia is not accessible if you've made further modifications. Remove the custom ad blocker rule(s) and the page will load as expected.