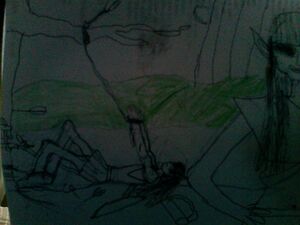 Kyanti is a Karkan Warrior boy who was pitted against Liniti Kyriata in battle for Intertribal training. He assumed it would be easy to defeat a girl, yet he was out archered, and defeated.
This was only mentioned in the story, but there are a few depictions of it namely in Liniti's concept sketch. He is assumed to be the boy in the background tied to a tree.
Kyanti is the male form of the name Kyani, who is Liniti's little sister.
Kyanti is part of the Jakid Clan
Kyanti would be really upset to know that his Display Pic is humiliating.
Ad blocker interference detected!
Wikia is a free-to-use site that makes money from advertising. We have a modified experience for viewers using ad blockers

Wikia is not accessible if you've made further modifications. Remove the custom ad blocker rule(s) and the page will load as expected.