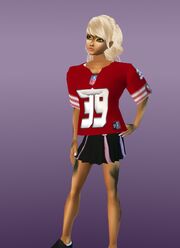 CHARACTER PROFILE: Ja'Si'Ka

Species

Age

Around 17 in 2137

Occupation

Student, later Pro Football Player (Wishkagora League)

Homeworld

Wishkagora

Birth Planet

G'Vantia (Northwest Continent)

Weapons

Martial Art skills, Strength, her teeth
Ja'SI Ka is a character in Spacelite, and a G'vantian. She is loud, obnoxious, giddy, and peppy, and has the perfect personality for a girl from a commercial.
Ja'Si Ka graduated and became a running back for the New San Francisco New Giants
Ad blocker interference detected!
Wikia is a free-to-use site that makes money from advertising. We have a modified experience for viewers using ad blockers

Wikia is not accessible if you've made further modifications. Remove the custom ad blocker rule(s) and the page will load as expected.