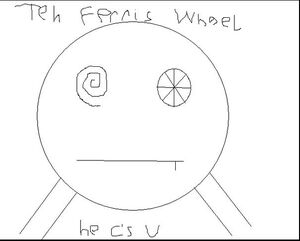 The Ferris Wheel Is a fictional cartoon ferris wheel that has a swirl for one eye and another ferris wheel for the other.
The Ferris Wheel was created during a cough syrup binge at the Palisaides Mall in Nyack. It is a really non-sensical and messed up version of the ferris wheel in the eatery, that talks in strange riddles. The ICU catch phrase was lifted from a Sonic The Hedgehog comic in which Dr. Robotnik had a device called the Peek-A-Boo (I.C.U.).
Teh Ferris Wheel

Species

Ferris Wheel

Age

Unknown

Hometown

West Nyack, New York

Quote

ICU

Occupation

Amusement Ride

Weapons

Can Spin people and pick them up and drop them.

Allies

Enemies

Dan, Developers, NARCs
As A Low-Gow
Edit
The Ferris wheel is sort of a symbol for all Spome Productions and Uberuber Productions in general. Its sort of an icon for those who know about it. If you stare at it too long it may enter your dreams however, so therefore you remember it.