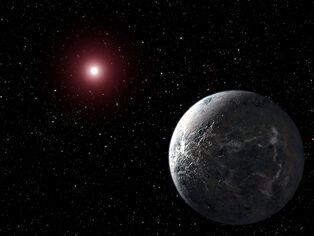 Een or OGLE-2005-BLG-390Lb is the icy home of the Nubare. Think of it as a big cold Earth, very similar culture to Earth. The Heavy gravity prevented them from acheiving flight early however, and they are in their early interstellar phase even though they have been around far longer than Humans.
Ad blocker interference detected!
Wikia is a free-to-use site that makes money from advertising. We have a modified experience for viewers using ad blockers

Wikia is not accessible if you've made further modifications. Remove the custom ad blocker rule(s) and the page will load as expected.