Cheerleading is the world's oldest profession! The sole purpose of cheerleading is to look sexy and distract the crowds from a losing team.
Why Cheerleaders Are Sexy
Edit
They are perky and do things that would look stupid if they weren't all hot. They wear short skirts and tight tops, and their tops are usually sleeveless. They tie up their hair in tight ponytales which look pretty. They also seem to put a lot of work into what they do which is a key sexual route to why many people can be attractive (ie jocks, Skaters, Surfers). They also have really great dance moves and show off their asses.
Plus boys like us cuz were awesome!
Known Cheerleaders
Edit
Photo Gallery
Edit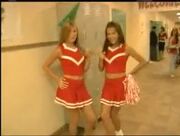 Ad blocker interference detected!
Wikia is a free-to-use site that makes money from advertising. We have a modified experience for viewers using ad blockers

Wikia is not accessible if you've made further modifications. Remove the custom ad blocker rule(s) and the page will load as expected.