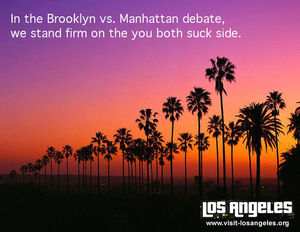 California Is a US state and the promised land. Its varying climates offer great settings, as well as exciting adventures.
Why California is Better Than Your State
Edit
California is better because It has every climate ever so you never ever have to leave. If you want to leave Vegas is fun, and Oregon is peaceful and Mexico well ok that kinda sucks but still. California also has theme parks in abundance so that you have no need to live in reality at all. California guys and gals are also much hotter than the fat greasers in New York or the tubby butt scratching burger munchin' weirdos in Texas. California is also home to all political viewpoints in case you get bored of one.
Ad blocker interference detected!
Wikia is a free-to-use site that makes money from advertising. We have a modified experience for viewers using ad blockers

Wikia is not accessible if you've made further modifications. Remove the custom ad blocker rule(s) and the page will load as expected.