Barfings Is a ninja resembling stick figure originally intended for use in a series that was forgotten about.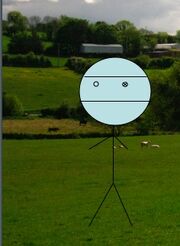 ==
Barfings

Age

5

Hometown

Computers

Allies

None

Enemies

Goal

Take over the SPOMEVERSE

Fate

Killed at the hands of exploding Donkeys
==
Irval Fantasy II
In Irval Fantasy II, Barfings is defeated by Irvine but not before sending Psylm to the VG wars file. Barfings has been driven mad by the success of Irvine who's audio movies marked the end of the first cartoon era which he was meant to be a p art of. The song Things Are Looking Up had been stuck in his head since its inception, and drove him to shoot his own eye out and replace it with a fake one.