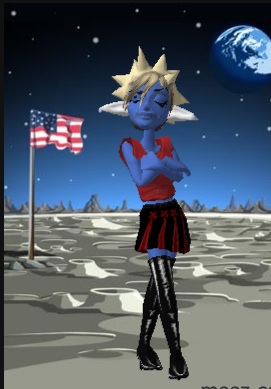 Atiri Kyriata is Akiti Kyriata's older sister, and a female tribal warrior.
Character Profile: Atiri

Age

about 223 Zayke Years possibly more. (human age equivalent: 18

Affiliation

Good

Friends

her siblings, Tiri, Tobias, Sarah, Lienti, Tamira, Luno, Taka, Tabo, Haldon.

Goal

Be at peace

Species

Home Planet

Weapons

Bow and Arrow, Small Laser, Spear, Poison Darts

Job

Instructor for tribal youth

Tribe

Kari People

Height

5'5
Personality
Edit
She is loud, angsty, and to many appears to be rude. If she was born on Earth she would be a goth or a punk girl. She actually does care deeply for her family and her people, especially her younger siblings, and would do anything to protect them.
On Earth, she learned about punk rock, and joined a band. When Akiti, Tiri, and Liniti leave the planet with Tobias and Sarah, Atiri stays behind and attends an Earthly high school.
At the end of Starbird III, she leads the rescue party to retrive Akiti and Tiri from the Warp Hole. Her ship is attacked and they crash on a low technology planet.
Akiti Kyriata Younger Brother
Liniti Kyriata Younger Sister
Kimiki Kyriata Younger Brother
Kyani Kyriata Younger Sister
Ad blocker interference detected!
Wikia is a free-to-use site that makes money from advertising. We have a modified experience for viewers using ad blockers

Wikia is not accessible if you've made further modifications. Remove the custom ad blocker rule(s) and the page will load as expected.