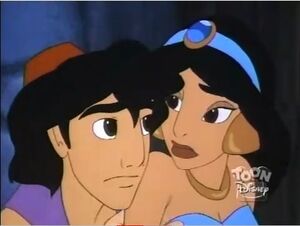 Aladdin Is a character from Disney's Aladdin. He appeared in Toon Fiction letting Goofy and Mickey Mouse use his house to help clean the car of pie, but it had to be done before Princess Jasmine returned. He was aided by Oswald The Lucky Rabbit
Ad blocker interference detected!
Wikia is a free-to-use site that makes money from advertising. We have a modified experience for viewers using ad blockers

Wikia is not accessible if you've made further modifications. Remove the custom ad blocker rule(s) and the page will load as expected.